ARTINFO
Wayne Thiebaud: A Retrospective
October 23, 2012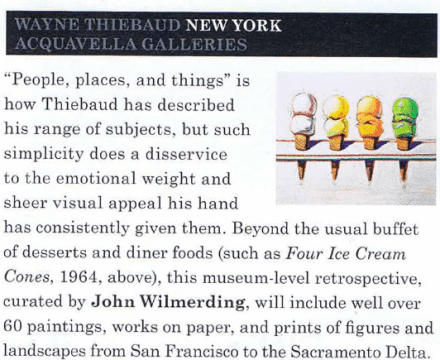 Art & Auction
October 2012
"People, places, and things" is how Thiebaud has described his range of subjects, but such simplicity does a disservice to the emotional weight and sheer visual appeal his hand has consistently given them. Beyond the usual buffet of desserts and diner foods (such as Four Ice Cream Cones, 1964, above), this museum-level retrospective, curated by John Wilmerding, will include well over 60 paintings, works on paper, and prints of figures and landscapes from San Francisco to the Sacramento Delta.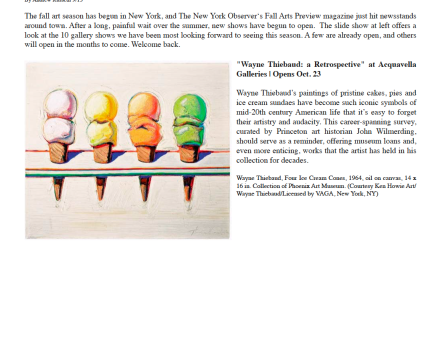 GalleristNY
Fall Arts Preview: Top 10 Gallery Shows
September 13, 2012
Wayne Thiebaud's paintings of pristine cakes, pies and ice cream sundaes have become such iconic symbols of mid-20th century American life that it's easy to forget their artistry and audacity. This career-spanning survey, curated by Princeton art historian John Wilmerding, should serve as a reminder, offering museum loans and, even more enticing, works that the artist has held in his collection for decades.