FOX 5 News at 10
https://www.dropbox.com/s/ylp1gw9il8f9y5p/BasquaitExhibitWNYW0515151033pm.mpeg
May 15, 2014
The Wall Street Journal
Outside the Lines
April 26-27, 2014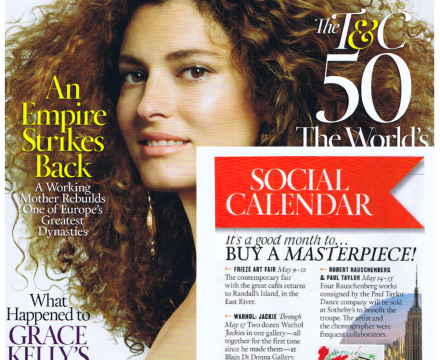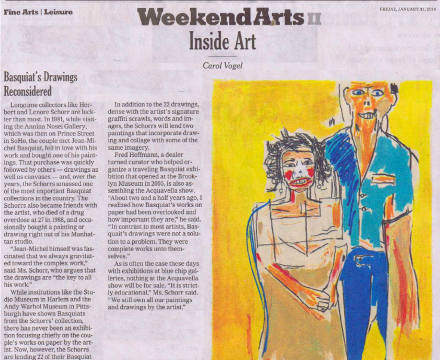 The New York Times
Basquiat's Drawings Reconsidered
January 31, 2014
Longtime collectors like Herbert and Lenore Schorr are luckier than most. In 1981, while visiting the Annina Nosei Gallery, which was then on Prince Street in SoHo, the couple met Jean-Michel Basquiat, fell in love with his work and bought one of his paintings. That purchase was quickly fell in love with his work and bought one of his paintings. That purchase was quickly followed by others - drawings as well as canvases - and, over the years, the Schorrs amassed one of the most important Basquiat collections in the country. The Schorrs also became friends with the artist, who died of a drug overdoes at 27 in 1988, and occasionally bought a painting or drawing right out of his Manhattan studio.
"Jean-Michel himself was fascinated that we always gravitated toward the complex work," said Ms. Schorr, who argues that the drawings are "the key to all his work."
While institutions like the Studio Museum in Harlem and the Andy Warhol Museum in Pittsburg have shown Basquiats from the Schorrs' collection, there has never been an exhibition focused chiefly on the couple's works on paper by the artist. Now, however, the Schorrs are lending 22 of their Basquiat drawings for a show running from May 1 through June 13 at the Acquavella Galleries. Eleanor Acquavella, one of the gallery's directors, said she welcomed the opportunity because "there is a complex side to his drawings that few people are familiar with."
In addition to the 22 drawings, dense with the artist's signature graffiti scrawls, words and images, the Schorrs will lend two paintings that incorporate drawing and collage with some of the same imagery.
Fred Hoffman, a dealer turned curator who helped organize a traveling Basquiat exhibition that opened at the Brooklyn Museum in 2005, is also assembling the Acquavella show. "About two and a half years ago, I realized how Basquiat's works on paper had been overlooked and how important they are," he said. "in contrast to most artists, Basquiat's drawings were not a solution to a problem. They were complete works unto themselves."
As is often the case these days with exhibitions at blue chip galleries, nothing at the Acquavella show will be for sale. "It is strictly educational," Ms. Schorr said. "We still own all our paintings and drawings by the artist."